Restore Cresskill Schools
Virtual Community Update with Supt. Mike Burke
Click here to Join on Zoom
Next meeting: Thursday, June 9th at 4:00pm via Zoom
The Board of Education will regularly communicate as progress is made to Restore Cresskill Schools. The estimated timeline and contract tracker shown here will be updated periodically. We also have started making
videos
to show what is happening inside the building.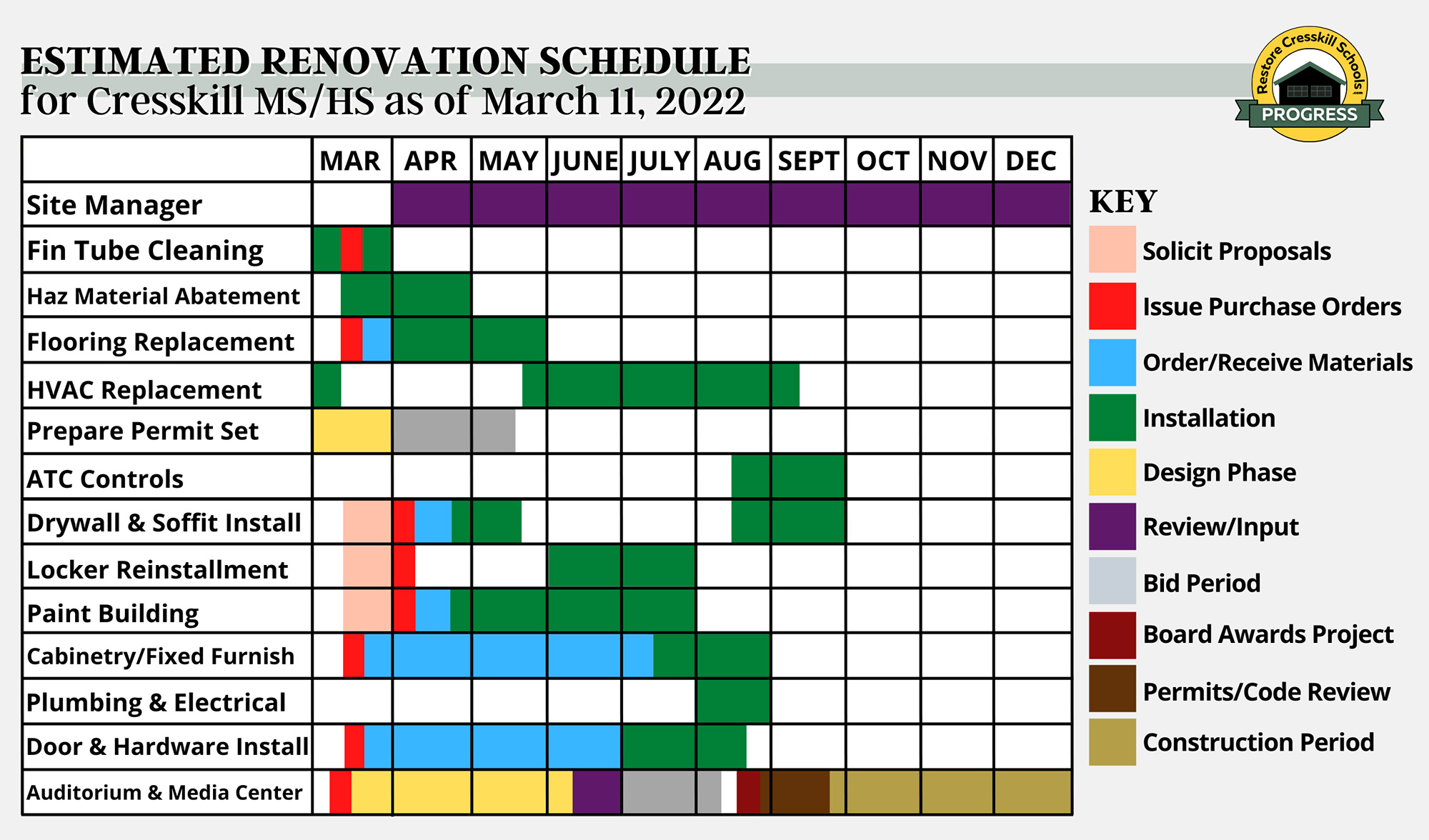 Click in the image above to enlarge.
VOTERS SAID "YES" TO CRESSKILL BOND REFERENDUM
Cresskill Public Schools started work immediately to #RestoreCresskillSchools after voters approved the bond referendum. Official results show voters supported the referendum 1833 to 235. The district needs up-front funding to do the work before federal and state funding will reimburse the majority of costs, and could not enter a long-term borrowing agreement without voter approval.
The district's paperwork was ready to be signed into action Feb. 14th, with contracts approved that same month. The Board of Education and district administration are laser-focused on welcoming students back to their Middle and High Schools this fall, and advisers who work in the school construction field give us strong confidence in that goal. More information about the timeline can be found on the FAQs page under "Future of Cresskill."
The Board of Education thanks each and every voter who took the time to learn about the proposal and express an opinion in this important bond referendum.
This website is being maintained as the one place for accurate and up-to-date information as the quest to Restore Cresskill Schools advances.
What's next?
Multiple funding avenues were explored, and the Board of Education concluded a bond referendum was the most time-efficient, cost-effective, and reliable solution for Cresskill.
Timewise
Voter approval on Jan. 25th, coupled with fast-track assistance from the state, expedited the signing of work contracts in February, with the start of renovations following in March. This was the quickest pace to get students back in their schools. Professional advisers who work in the school construction field give us strong confidence in the ability to welcome students for classes in Fall 2022.
Moneywise
This plan was the best way to reduce the amount of project costs that go on local tax bills. It relies on reimbursement from the Federal Emergency Management Agency (FEMA) and special aid from the State of New Jersey. FEMA is expected to reimburse up to 75% of the project costs, and state aid is expected to contribute about 34% of the remainder. After that, restoration is projected to add $83/year to the property tax bill of a home assessed at Cresskill's average ($708,860).
Mother Nature dealt a serious blow to the Cresskill community, leaving not just property damage but also emotional devastation.
The floodwaters receded from the Middle School and High School. The mud was scrubbed away. Ruined furniture, floor tiles and carpet were hauled out, and emergency interventions protected the growth of mold.
Now the buildings await major restoration work so about 1,000 students can return to their schools. They learned from home, then gathered in two-grade groupings one day a week at the hastily rented Academy of St. Therese. Since late February they have attended classes at Chodae Community Church in Norwood.
Watch the Cresskill Video
Get a two-minute overview of the Cresskill crisis, the solution approved by voters, and the timeline for getting students back into their schools. (Recorded prior to the referendum.)